Yellow Bush Lupine
(Lupinus arboreus)
Priority: - Control
Tags: Terrestrial
Identification and Reproduction
Identification:
Yellow bush lupine is also known as tree lupine. This flowering plant is in the legume Fabaceae family.
It is an evergreen

shrub

growing up to 2 m tall.

Leaves

are green to greyish green and are palmate. There are 5 to 12 leaflets on each leaf. Leaves are also covered in fine silky hairs.

Flowers

are found in a terminal stalked raceme, light yelllow, pea-like and very fragrant. Blooms occur in the spring. In certain locations flowers can be blue, liliac of purple.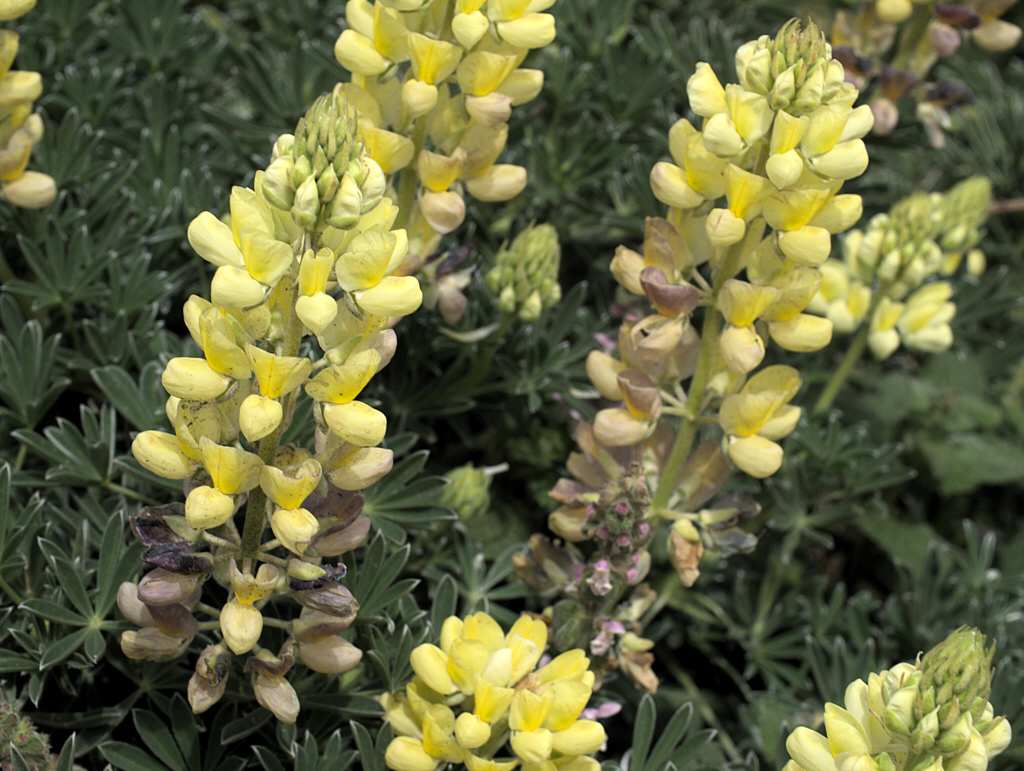 Seedpods are 4-6cm long, hairy and contain 8-12 seeds each.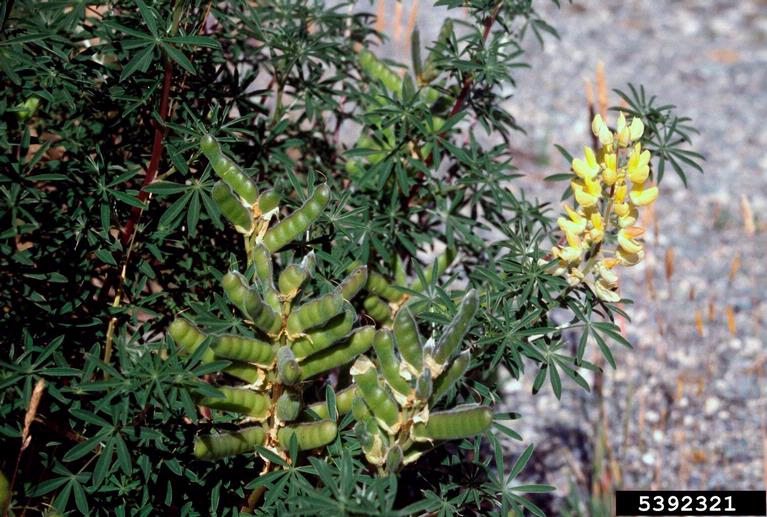 Reproduction:
Yellow bush lupine only reproduces by seed.
It is a prolific seed producer and seeds are very persistent.
Seedpods will explode and disperse seeds short distances.
Habitat & Ecology
It prefers well-draining soil but an grow in nutrient-poor sites.
It is shade intolerant but drought tolerant.
Yellow bush lupine can withstand temperatures that reach −12 °C.
Typically found on rock bluffs, dunes, and steep slopes.
Impacts
Ecological:
It is a good nitrogen fixer and will alter the soil chemistry of the environment. This can inhibit the growth of native plants that are adapted to low nitrogen levels.
It is capable of hybridizing with native lupines and can threaten the native ecosystem.
Management
Prevention is a high priority for this plant.
Do not plant or distribute this plant.
If you have a flower arrangement with this plant please dry and dispose of it in the garbage.
Mechanical/Manual Control:
Manual eradication is the most effective method. This includes hand-pulling and weed wrenching. These techniques remove the roots entirely and lead to eventual death.
Plants should be removed prior to seed set in June.
Remove yellow bush lupine as early as possible, before they are able to cause permenant damage to the soil chemistry.
Depending on the stage of infestation, native plants may need to be replanted to help restore the environment.
Resources
For more information check out the University of Minnesota: Department of Horticultural Science's Restoration and Reclamation Review here.
For more details on historic and managment controls please check out the Cal-IPC's plant report on Lupinus arboreus.
Header photo (Krzysxtof Ziarnek).