Purple Nutsedge
(Cyperus rotundus)
Priority: - Prevent
Tags: Agricultural | Terrestrial
Identification and Reproduction
Identification:
Purple nutsedge is a perennial sedge that can reach up to 1 m tall.

Stems

are smooth, triangular and long.
Leaves

are attached at the basal portion of the stem. They have a distinct mid-rib and taper to a point.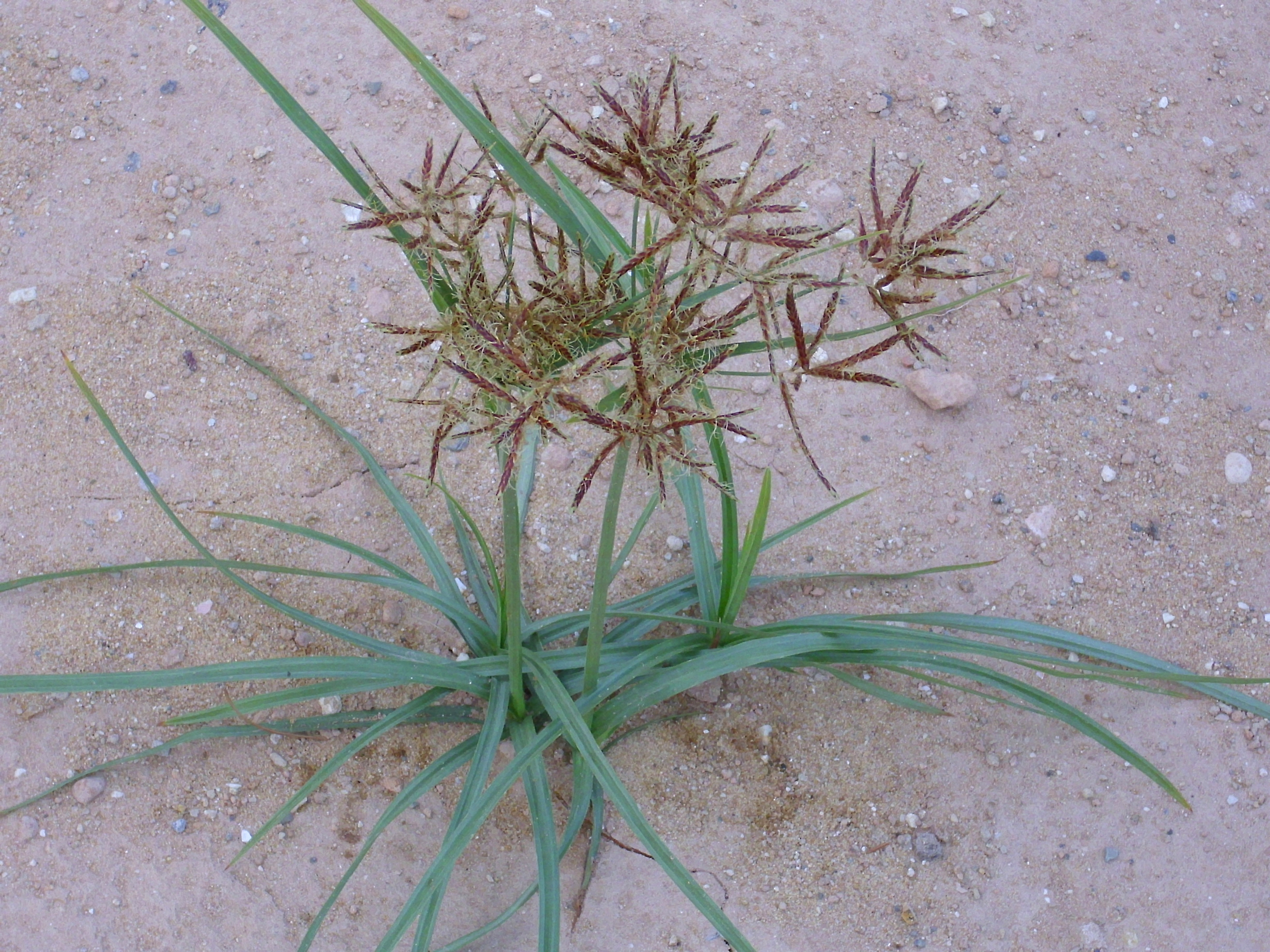 Flowers

are found in a umbel-like cluster and are purple to brown in colour. There are also short leaf-like bracts under the flower clusters.
Reproduction:
Reproduces from tubers that store food that will help it complete its life cycle the following year.
Tubers can also remain dormant in the soil and then when conditions are favourable they will establish new plants.
Any tubers that are left in the ground will resprout.
Habitat & Ecology
It is well adapted to moist and sandy conditions, but prefers drier conditions.
Shade intolerant.
Purple nutsedge has been observed a various sites including cultivated fields, roadsides, pastures, riverbanks, sandbanks, irrigation channels and wastelands.
Currently it has yet to be found in BC, but purple nutsedge nutlets have been found in imported ornamental nursery stock.
Impacts
Social:
They invade turf, landscape areas, pastures and cultivated fields.
Reduces crop yields.
Extremely competitive and will take up space and nutrients rapidly. Crop species will be negatively impacted.
Ecological:
Displace native vegetation.
Will deplete nutrients from the soil and store them in its tubers.
Management
Prevention is a high priority for this plant.
Use clean seed, hay, grain and straw.
Maintain a healthy pasture and good crop cover to reduce ground exposure.

Contact the Canadian Food Inspection Agency (

CFIA

) if you think you have seen this plant.
Mechanical/Manual Control:
Mechanical removal will need to be repeated in order to deplete tubers of resources.

Do not cut stems as this will trigger tubers to form new rhizomes.

Soil cultivation can be effective only if the tubers are destroyed. Should be repeated every 2-3 weeks to distrupt plant growth.
Chemical Control:
Many herbicides will kill the foliage of the plant but it is most important to kill the tubers. Currently glyphosate can be used on purple nutsedge. Applications should be applied 3-4 times in a growing season to effectively control it.

Please carefully read product labels prior to application.
Resources
Download A Guide to Weeds in British Columbia for Purple Nutsedge here.
For more details check out the Invasive Species Compendium datasheet on Cyperus rotundus (purple nutsedge).
Header photo (Jeevan Jose)