North African Grass
(Ventenata dubia)
Priority: - Prevent
Tags: Terrestrial | EDRR
Identification and Reproduction
Identification:
North African grass is an annual grass that grows between 10 to 45 cm tall.

Stems

are long, thin, branching and wiry.

Leaf blades

appear rolled in and are narrow, with long ligules.
This plant has reddish-black nodes between May and June.

Inflorescence

are open, slender and branches bear spikelets at the ends of stems. The upper flower has an extended wavy and sometimes bent awn about 1.5 cm long.

Reproduction:
Reproduces only by seed.
It produces from 15 to 50 seeds per plant.
Long seed awns allow for attachment onto fur and objects.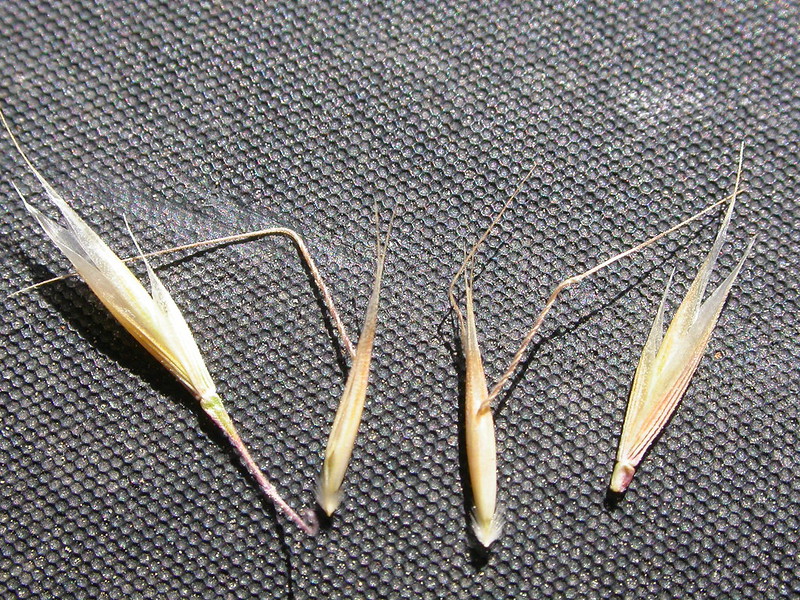 Seeds are dispersed by livestock, farm equipment, vehicles and contaminated hay and grass seed mixtures.
Habitat & Ecology
Invades perennial grasslands, rangelands, hay fields, roadsides, railways, riparian corridors and other disturbed sites.
Typically grows in clay and clay-loam soils that are shallow and rocky.
Currently, it is only found in Metro Vancouver region.
Impacts
Social:
Reduces available forage opportunities for livestock.
Decreased hay, Kentucky bluegrass, alfalfa, winter wheat production. It has even reduced yields by nearly 50-75% within several years.
North African grass is unpalatable to livestock.
Ecological:
Since this plant has a shallow root system it increases erosion.
Displaces native vegetation and changes the plant community. These changes result in a change in insect abundance, resulting in foraging loss.
Management
Prevention is a high priority for this species.
Learn to identify this plant and report any sightings.
Maintain a diverse and healthy stand of perennial plant species to reduce the introduction of North African grass.
Purchase and plant certified, clean seed mixtures.
Be cautious of imported grass seed mixtures, be sure to check seed labels.
Clean clothing, pets, equipment and vehicles before leaving infested sites.
Mechanical/Manual Control:
These plants can be hand-pulled as they grow from shallow roots. It is feasible for small patches but it can still be labour intensive.
Mowing is only recommended prior to seed set and before soils dry out.
Resources
Download BC's Invasive Species Alert for North African grass here.
Header photo (Matt Lavin).