Mediterranean Sage
(Salvia aethiopis)
Priority: - Prevent
Tags: Terrestrial
Identification and Reproduction
Identification:
Mediterranean sage, also known as African sage, is a perennial plant that can reach 90 cm tall.

Stems

are square and covered in fine wooly hairs.

Rosette

leaves are larger than stem leaves and are greyish-green. Rosettes can reach a diameter of 1.2 m wide.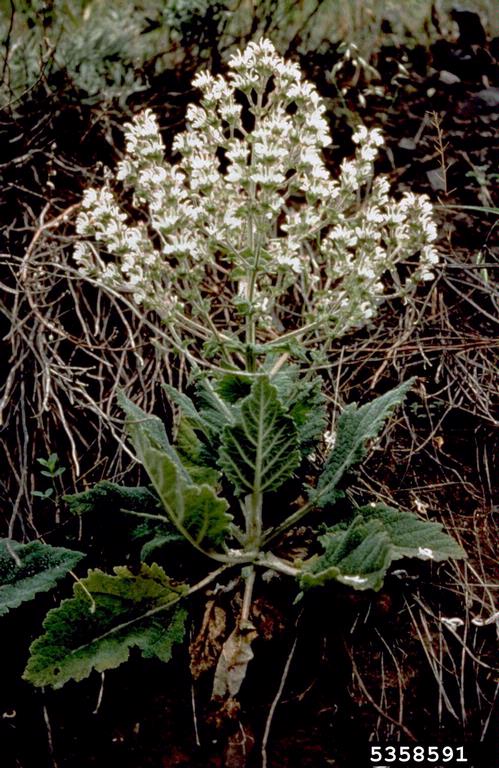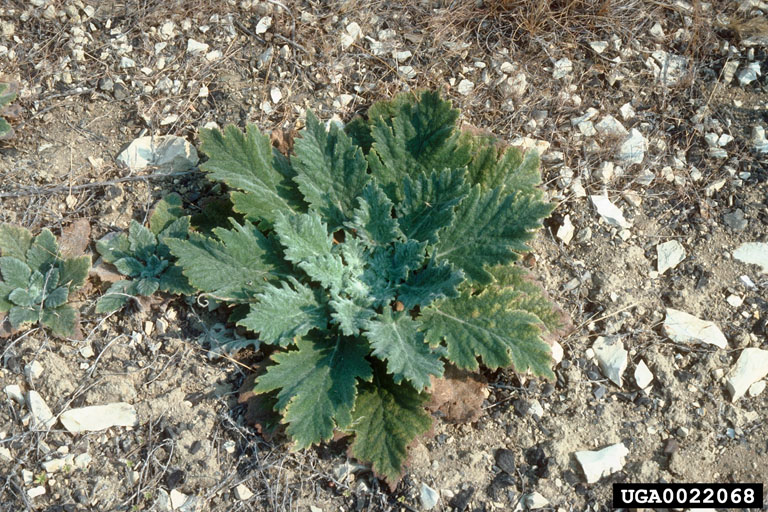 Flowering stems are very branched and do not develop until June-August.

Leaves

will decrease in size moving up the stem. They are aromatic (sage-like) when crushed.

Flowers

are yellow to white and bilabiate.
Reproduction:
Reproduces solely by seed.
A single plant can produce up to 100,000 seeds in a growing season.
Stalks will break up and blow as tumbleweeds, further dispersing seeds.
Habitat & Ecology
Commonly overtaking disturbed sites, fields, rangelands and more recently agronomic crop sites.
Has yet to be observed in Canada.
Impacts
Social:
This plant is unpalatable to livestock and reduces foraging opportunities for livestock.
Contaminates alfalfa seed crops.
Ecological:
Reduces native plant biodiversity.
Management
Prevention is a high priority for this species.
Maintain good ground cover to slow the spread and prevent invasive establishment.
Learn to identify Mediterranean sage.
Report this plant if you think you have seen it.
Resources
For more information check out the Invasive Species Extension on Salvia aethiopis, Mediterranean Sage.
Header photo (Javier Pelayo).