Kudzu
(Pueraria montana, P. lobata)
Priority: - Prevent
Tags: Terrestrial
Identification and Reproduction
Identification:
Kudzu is a fast-growing vine that is known as one of the world's most invasive plants.

Leaves

are alternately arranged on the stem. Each leaf is composed of three broad leaflets, up to 25 cm long.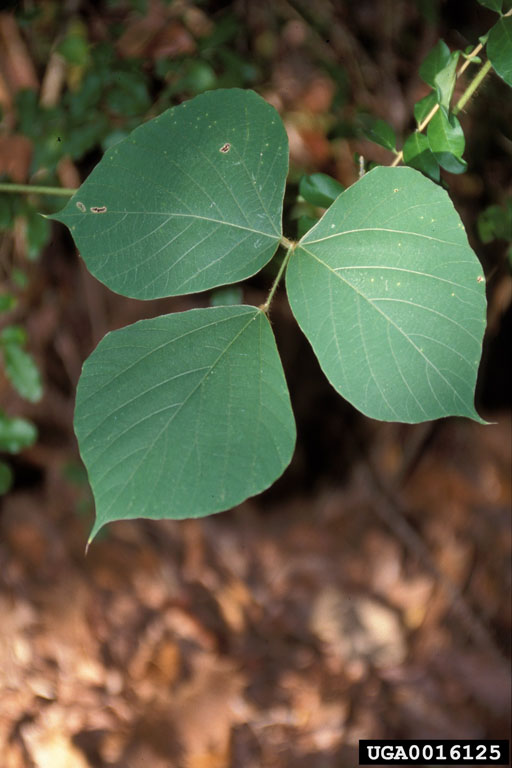 Stems

are yellow-green and as it matures will turn dark brown and woody.

Flowers

form in long hanging clusters bluish-purple flowers. Flowers smell like grapes.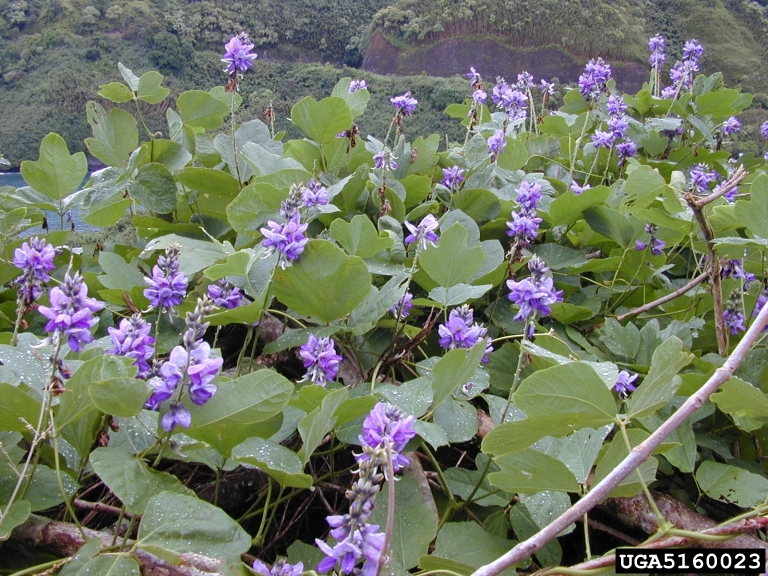 Reproduction:
Produces large tuberous roots that are hard to remove.
A single tuber can measure over 300lb and grow a foot per day.
Produces seeds but primarly spreads by vegetative growth.
Habitat & Ecology
In Canada there is a single population on a hillside near Leamington, Ontario. It is under current control measures.
An infestation can grow over 60,700 hectares in a single growing season.
Tolerant to drought and frost conditions.
Does not do well in wet soils.
Commonly found on abandoned fields, pastures, tree plantations, roadsides, riverbanks and other disturbed urban areas.
Impacts
Social:
Has a significant impact on forest productivity, particularly on forestry plantations.
Dense infestations have been known to have a blanket affect on fences, houses, road signs and hydro poles to the point of power outages.
Some kudzu plants carry Asian soybean rust fungus that can infect soybeans and other members of the pea family.
Ecological:
Forms dense, ropey mats over vegetation and other structures.
It will suppress or kill other plants it grows on by cutting off the nutrient supply, breaking off parts of the plant or casting excessive shade.
It reduces native biodiversity.
Management
Prevention is a high priority for this plant.
Do not move unknown soil material.
Do not plant invasive plants in your home garden.
Use clean, certified seed mixtures.
Contact your local Canadian Food Inspection Agency (CFIA) if you think you have seen this plant.
Resources
Check out the Canadian Food Inspection Agency's datasheet on kudzu here.
For more for details check out the Invasive Species Compendium datasheet on Pueraria montana var. lobata (kudzu).
Download BC's Invasive Species Bulletin for Kudzu here.
Header photo (Gsmith).